Genre: Musical, Fantasy, Family
Director: Bill Condon
Writers: Stephen Chbosky, Evan Spiliotopoulos
Duration: 2:09 h
Cast:
Plecând de la premisa că Belle este una din prințesele mele favorite Disney (pe lângă Rapunzel din "O Poveste Încâlcită"), când am aflat că va fi o adaptare a animației, cu Emma Watson în rolul principal, aproape am căzut de pe scaun. Trebuia să merg!
Imediat ce am aflat cine va juca rolul Bestiei, neauzind de Dan Stevens până atunci am decis să mă interesez în ce alte ecranizări a mai jucat și astfel am ajuns să mă uit la Downton Abbey. Recunosc, am fost încântată de cum a jucat în serial și pot spune că abia așteptam să-l văd în noul film Disney.
Profitând de oferta de 11 lei/biletul, miercurea la Happy Cinema din Liberty Center, am mers la premierea filmului.
Aveam foarte multe așteptări de la acest film, și pot spune că per total am fost 8/10 mulțumită. Aflați mai jos și de ce.
Povestea:
Au respectat în mare parte firul narativ al poveștii din animație, cu mici îmbunătățiri, unele care mi s-au părut destul de esențiale. Spre exemplu, în animație, nimeni nu știa de existența castelului, de servitorii transformați în obiecte sau de prinț, după ce a luat înfățișarea Bestiei. Acest lucru mi s-a părut destul de ciudat în contextul în care la palat erau organizate baluri destul de des, prințul fiind cunoscut pentru acestea și pentru invitații care participau.
Spoiler alert: În film explicația este următoarea: vrăjitoarea care l-a transformat pe prinț le-a șters memoria oamenilor în legătură cu locuitorii castelului, astfel nimeni nu își amintea de cei de la curtea regală.
Personajele:
Bestia/Prințul – o reprezentare precisă a Bestiei din animație, pot spune că a fost unul dintre cele mai reușite personaje. Dan Stevens a jucat bine în rolul Bestiei, însă prietenele mele au fost dezamăgite de înfățișarea prințului de la final, dar eu fiind deja familiarizată cu el, tot mi s-a părut frumos.
Belle – Emma a redat destul de bine personajul, cu mici scăpări în care mi se părea prea rigidă în reprezentarea ei. Per total a fost ok și sincer, nu-mi pot imagina pe altcineva jucând rolul acestei prințese.
Gaston – un alt personaj foarte reușit. Alături de LeFou au reprezentat perfect duo-ul comic al filmului dar cu o alură mai întunecată. Spoiler alert: Gaston din film l-a lăsat pe tatăl fetei cu care voia să se căsătorească hrană pentru lupi. Auch.
Maurice (tatăl lui Belle) – cam diferit față de originalul, acesta având mai degrabă un aer de intelectual și nu de, să spunem, nătâng ca cel reprezentat în animație. Spre deosebire de cel din filmul original unde tatăl era un personaj comic, în această adaptare, are o alură mai serioasă, nicidecum comică.
Personajele obiecte – Lumiere și Cogsworth au fost foarte bine redate, însă nu pot spune același lucru și despre Mrs Potts, Chip și Madame de Garderobe. Se putea mai bine în ceea ce privește designul.
Muzicalul:
Melodiile au fost pe măsură. Atât cântecul lui Gaston, cât și cel al Bellei până la faimoasa melodie Be our Guest, cântată de Lumiere. Geniale.
După cum vă spuneam, nu am fost 100% mulțumită, dar s-a încadrat într-o oarecare măsură în așteptările avute, de aceea îi voi acorda 5/5. M-am bucurat de el din plin și cu siguranță îl voi mai viziona de câteva ori pe viitor, și aștept cu nerăbdare celelalte adaptări ale animațiilor Disney prea-bine cunoscute.
Pentru mai multe detalii, puteți viziona trailerul aici.
Assuming that Belle is one of my favorite Disney princesses (besides Rapunzel from Tangled), when I found out that there would be a live action after the animated movie, with Emma Watson as the lead, I almost fell out of my chair. I had to go!
As soon as I discovered who would play the Beast, and since I hadn't heard about Dan Stevens until then, I decided to look up in which movies/TV shows he played before, so this was how I ended up watching Downton Abbey. I admit it, I was thrilled about his acting in the TV show and I can say that I couldn't wait to see him in the new Disney movie.
Taking advantage of the 11 lei/ticket discount, on Wednesdays at Happy Cinema from Liberty Center, I went to the movie premiere.
I had many expectations from this movie, and I can say I was 8/10 content. Below you will find out why.
The story:
They have followed most of the animation's plot, with small improvements, some of which I thought were essential. For example, in the animation, no one knew about the existence of the castle, about the servants turned into objects or about the prince, after he became the Beast. This seemed kinda weird, regarding the fact that many balls were organized within the palace, the prince being well-known for them and for the guests that participated.
Spoiler alert: In the movie, the explanation is the following: the witch that turned the prince, erased the people's memory about the residents of the castle, hence no one remembered the people from the royal court.
The characters:
The Beast/Prince – an accurate representation of the Beast from the animation, I can say that it is one of the most well-done characters. Dan Stevens plays the role of the Beast very well, but my friends were disappointed by the prince's appearance at the end, and since I was already accustomed with him, I still thought he was handsome.
Belle – Emma played pretty well the character, but sometimes she seems too rigid while playing Belle. Overall, she was ok, and honestly, I can't imagine anyone else playing this princess.
Gaston – another well-done character. Together with LeFou, they are the perfect comic duo of the movie, but with a dark side. Spoiler alert: Gaston from the movie leaves the father of the girl he wanted to marry, Maurice, to the wolves. Auch.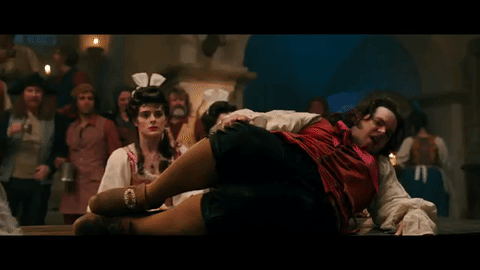 Maurice (Belle's father) – a little bit different from the original, this one has more of an intellectual vibe, rather than, let's say, goofy as the one from the animation. Unlike the one from the original movie, where the father is portrayed as a funny character, in this adaptation, he has a more serious air around him, not at all funny.
The objects – Lumiere and Cogsworth are very well represented, but I cannot say the same thing about Mrs Potts, Chip and Madame de Garderobe. They could've done their design better.
The musical:
The songs were on point. Both Gaston's song, as well as Belle's, and even the famous song Be our Guest, sang by Lumiere. Brilliant.
As I was saying, I was not 100% pleased with the movie, but, it reached my expectations to some extent, and that is why I will give it 5/5. I fully enjoyed it and I will definitely watch it again a few times. I can't wait for the other adaptations after the famous Disney animations.
For more details, you can watch the trailer here.