Genre: Sitcom
Created by: David Crane, Marta Kauffman
Seasons: 10
Starring:
Era și timpul să scriu despre unul din serialele mele preferate, nu de alta, dar tocmai l-am terminat a doua oară. L-am început în sesiune că deh.
Un serial foarte amuzant, cu foarte multe glume, situații și întâmplări în care cu toții ne-am regăsit la un moment dat. A fost lansat în anul în care m-am născut (1994), și a continuat pentru 10 sezoane (până în 2004), dar tocmai faptul că este vechi, este ceea ce îl face de neîntrecut.
Este vorba de 6 prieteni, dintre care 2 sunt frați (Ross și Monica) care ajung din întâmplare cei mai buni prieteni și care își pierd vremea într-o cafenea numită Central Perk. Monica și Phoebe erau colege de cameră, Ross și Chandler, prieteni din facultate, iar Joey și Rachel ajung să fie colegii de cameră a lui Chandler, respectiv Monicăi.
Toate personajele au un caracter aparte și te poți regăsi în oricare din ei în anumite situații:
Ross – este intelectualul pasionat de dinozauri, care se căsătorește cu o lesbiană și ajung să aibă un copil cu toate că divorțează. Este îndrăgostit de Rachel încă din clasa a 9-a și ajunge să divorțeze de 3 ori.
Chandler – traumatizat de părinții lui (mai ales de tatăl său gay), Chandler folosește glumele și sarcasmul pentru absolut orice situație.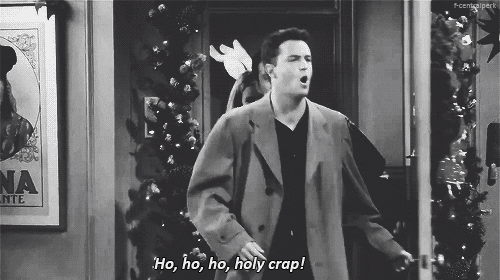 Joey – actorul fără talent, puțin prostuț dar care este cel mai loial dintre toți. De asemenea, este și cel care întotdeauna reușește să ademenească femeile în pat prin farmecul lui și prin faimoasa lui replică "How you doin'?". Și apoi nu le mai sună a doua zi. Drept urmare, el este cel care rămâne fără pereche la sfârșitul serialului, dar aventurile lui continuă în spin-off-ul Joey.
Monica – obsedată de curățenie și cu o nevoie extremă de a mulțumi pe toată lumea, Monica este gazda perfectă, motiv pentru care mai toate evenimentele au loc în apartamentul ei.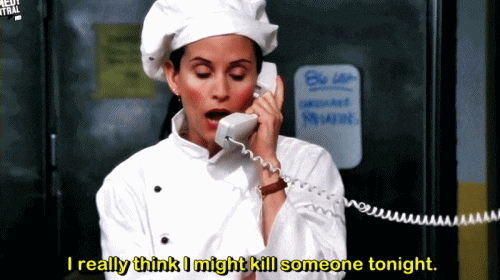 Phoebe –  puțin ciudățică, ea aduce puțină culoare grupului, fiind cea a cărei mamă s-a sinucis când ea era doar o adolescentă și este forțată astfel să trăiască pe străzi pentu câțiva ani.
Rachel – este preferata mea (fiind aceeași zodie ca mine, taur), este foarte alintată dar se decide să renunțe la tot ceea ce primește de la părinți pentru a trăi pe cont propriu. Trece astfel prin greutățile vieții, fiind angajată ca ospătăriță timp de 2 ani pentru ca mai apoi să-și găsească jobul mult dorit.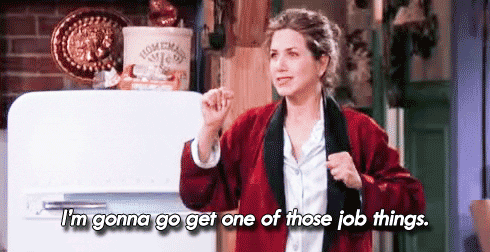 Fiind vorba de 3 fete și 3 băieți este imposibil ca aceștia să nu ajungă să se cupleze (excepție cei 2 frați). Astfel, cuplul meu preferat Ross și Rachel au parte de o dragoste ca în povești chiar dacă nu au fost atât de mult timp împreună, o ceartă care se termină cu Ross înșelând-o pe Rachel crezând că au fost într-o pauză de relație. Rămân prieteni buni iar mai târziu, aceștia ajung să aibă un copil împreună datorită unei aventuri de-o noapte, însă abia la sfârșitul serialului realizează că sunt făcuți unul pentru celălalt.
Un alt cuplu frumos, care a avut o evoluție mult mai drăguță (cred eu) decât a cea a lui Ross și Rachel este cuplul Chandler-Monica. Totul a început prin partide de sex pe ascuns, dar care s-au transformat într-o adevărată poveste de dragoste și ajung să se căsătorească.
Aventurile celor 6 prieteni ne învață lecții importante din viață, cum egoismul niciodată nu aduce bucurii, ci mai degrabă altruismul, cum loialitatea și prietenii sunt cei care contează cu adevărat.
It was about time I wrote about one of my favorite TV shows, not to mention that I just finished it a second time. I started it during the exam period because duh.
A really funny TV show, with lots of jokes, situations and events in which, at some point, we all found ourselves in. It was released in the same year I was born, and it continued for 10 seasons (until 2004), but the fact that it's old makes it beyond compare.
It's about 6 friends, where 2 of them are brother and sister (Ross and Monica) which somehow become the best of friends that hang out at a coffee house named Central Perk. Monica and Phoebe were roommates, Ross and Chandler, college friends, and Joey and Rachel become the roommates of Chandler and Monica.
All characters have a distinct personalities and you can find yourselves in each one of them in certain situations:
Ross – the intellectual, passionate about dinosaurs, who marries a lesbian and they end up having a baby, although they divorce. He has a crush on Rachel since 9th grade and he becomes the 3 times-divorcee.
Chandler – traumatized by his parents (mostly because of his gay father), Chandler uses jokes and sarcasm as a solution to every situation.
Joey – the talentless actor, a little bit stupid but he's the most loyal out of all of them. He is also the one who always manages to get women in his bed through his charm and his famous line "How you doin'?". And he doesn't call them the second day. Thereby, he's the only one that stays single at the end of the show, but his adventures continue in his Joey spin-off.
Monica – the neat freak with an extreme need to please everyone, Monica is the perfect hostess, the reason why most of the events happen at her apartment.
Phoebe –  a little weird, she brings some colour to the group, being the one whose mom killed herself when she was a teenager and she ended up living on the streets for a few years.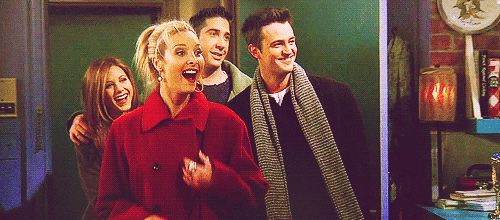 Rachel – she's my favourite (being the same zodiac as me, Taurus) she's very spoiled but she decides to give up everything her parents provided for her to live on her own. She then sees how hard it is to live on your own, hired as a waitress for two years until she finds her dream job.
Because they are 3 girls and 3 boys, it's impossible for them to not become couples (excepting the 2 brothers).  Thus, my favorite couple Ross and Rachel they experience a true love story, even though they do not stay that long together because of a fight that ends with Ross cheating on Rachel because he thought they were on a break. They stay as good friends and later they have a child together because of a one-night stand, but only at the end of the show they realize they are made for one another.
Another cute couple, which had a better development (in my opinion) than Ross' and Rachel's is the Chandler-Monica couple. It all started with sex while hiding from the others but it turned out into a real love story and they get married afterwards.
The adventures of the 6 friends teaches us important life lessons, how selfishness never brings joy, but rather selflessness, how loyalty and friends are the ones that truly matter.