Ce pot spune despre
, unul dintre cele mai mari festivaluri de muzică din Europa de Est – o experiență extraordinară. Nu regret toți banii pe care i-am investit în această călătorie in the world capital of might and magic. Am multe de spus așa că le voi lua pe rând:
1. Cazarea
O cazare închiriată de prin februarie, la un suprapreț ce-i drept, dar și-a meritat toți banii. Dacă în mod normal am fi dat 200 de lei pe noapte pentru 4 persoane, acum am dat 840 de lei. Nu ne-a ajuns extraordinar de mult, că am fost 8 persoane, dar tot e ceva. În schimb apartamentul a fost su-perb. Incredibil de mare (părea și în poze, dar experiența spune să nu mai crezi tot ce vezi în poze), spațios, dotat cu ce-ți voia suflețelul, de la cafea și cafetieră până la bețișoare de urechi. Și pe lângă faptul că era superb, mai era și în centru. Cum coborai, traversai și aveai mall-ul în față și era la 10-15 min de mers până la Arena. Ce-ți puteai dori mai mult?!
2. Brățările BT
Foarte ingenioși ăștia de la Banca Transilvania cu brățările contactless. Îți încărcai această brățară cu cât voiai tu și apoi mergeai în parcul enorm al arenei unde găseai tot felul de standuri cu tot felul de mâncăruri/băuturi sau chestii, unde le plăteai cu brățara. Fără prea mare tam-tam și așa sigur nu aveai cum să-ți pierzi banii/portofelul. Cum eu și gașca ajunsesem cu o zi înainte de
, am mers să preschimbăm biletele în brățări și ne-am interesat la ce oră se vor da aceste brățări, fiindcă bineînțeles, știam din timp de ele. Tipa de la BT ne-a zis că sunt foarte puține și că ar trebui să venim mai devreme dacă chiar vrem. Zis și făcut. Am mers a doua zi de la 11:30, în condițiile în care la brățări se dădea drumul de la 14, și am așteptat noi mult și bine în fața barăcii unde se presupunea că se vor da, ca apoi pe la 12 și ceva să fim mutați la o altă coadă. Și ghici ce, nu s-au dat chiar ca pâinea caldă. A mers foarte rapid coada, abia dacă s-au dat 200 de brățări. Acum mi se pare amuzant ce ne-a zis tipa. But, oh well.
Că tot veni vorba de cozi, țin să menționez că au fost foarte bine organizați voluntarii de la BDV. Cu toate că erau cozi imense, prietenii noștri au ajuns cam în 5-10 min la schimbatul brățărilor. La noi, fiind cu o zi înainte de festival, a durat totul 3 min. Felicitările mele!
3. Parcul
Un parc absolut uriaș, unde sponsorii festivalului ne-au delectat cu tot felul de atracții, cum ar fi hamace (de la H&M), corturi (Kaufland), leagăne, gura lupului, și mult prea multe chestii ca să le pot enumera pe toate aici. Voi lăsa pozele să vorbească de la sine.
4.
-ul propriu-zis
Prima zi
Genial. Cum am intrat la primul Dj pe care voiam să-l văd, aka Naughty Boy, era melodia "Running". Mi s-a făcut pielea de găină. O scenă enormă, în tematica festivalului (puteau fi mai ingenioși în privința designului, dar au avut culorile mele preferate așa că îi iert), două ecrane uriașe de o parte și de alta a scenei unde îți puteai admira favoriții chit că erai în spatele arenei. Fiindcă am fost o fată deșteaptă și mi-am descărcat aplicația UNTOLD, mi-am făcut un line-up după gusturile mele și am încercat să-l respect. Bineînțeles că n-am reușit dar vă voi povesti la cine am ajuns.
După NB a cântat James Arthur. Nu era în line-up-ul meu, dar cum gașca cu care eram voia să-l vadă, am decis să rămânem. M-a cam plictisit. Ce-i drept știu doar două melodii de-ale lui și nah, restul erau melodii de dor.
După JA, am mers acasă deoarece voiam neapărat să ajung la Carla's Dreams iar scena pe care aceasta cânta, The Citadel, era în afara parcului unde se afla UNTOLD-ul, undeva în centru, foarte aproape de apartament. Cum am ajuns acolo era Antonia, și imediat ce am ajuns noi undeva mai în față, a intrat pe scenă Carla's. Superb. Mi-a plăcut la nebunie să-i ascult live și să fredonez alături de ei melodiile preferate, care nu-s puține. Singurul dezavantaj al acestui concert era faptul că era gratis și tot poporul avea acces. Cu copii. Pe umeri. Hei, cel puțin am văzut/auzit Carla's Dreams, la care încercam de mult să ajung.
După CD, am mers înapoi la scena Ursus Untold (aka Arena) și am ascultat Fedde le Grand. A fost super mișto, a mixat melodii cunoscute și a făcut atmosferă. După Fedde le Grand a urmat Tiesto, care mă așteptam să fie mult mai super, dar a cam lăsat de dorit așa că eu și 2 prietene am decis să mergem la scena Alchemy, unde cânta Rudimental. O atmosferă mult mai grozavă, lumea dansa și se distra. Așa da.
După Rudimental, ne-am întors la Ursus Untold unde urma Dimitri Vegas & Like Mike. Ne-am întâlnit cu gașca și am așteptat să intre Dj-ii, stând pe jos. Așa se practică când stai atâtea ore în picioare. Și apoi boom. DV&LM știu să-și facă intrarea. A fost super de la început până la sfârșit. Au avut melodii cunoscute, au mixat super și au implicat mulțimea. Pentru mine, ăla a fost apogeul festivalului. M-am distrat cel mai bine alături de prietenii mei.
A doua zi
Eu și o prietenă am ținut neapărat să vedem Subcarpați. Încercam de ceva timp să ajungem la un concert de-al lor și de data asta am reușit. Bestial. Nimănui nu-i păsa de căldura de acolo, toată lumea era extaziată, au făcut atmosferă șiii bonus: au făcut rime pe loc. Extraordinar. Mi-a plăcut super mult.
După Subcarpați ne-am întors la apartament că nu prea mai erau artiști care să ne intereseze o perioadă de timp. Ne-am întors abia la Galantis, unde iarăși mi-a plăcut foarte mult. După Galantis a urmat imediat Hardwell, unde iar ne-am distrat. Nu la fel de tare ca la DV&LM tho.
A treia zi
Deja lenevisem foarte mult, am ajuns abia la W&W care cânta undeva la 00:00. Și ei mi-au plăcut foarte mult, au știut să întrețină atmosfera și să mixeze destul de bine. După, a urmat Armin van Buuren. La fel, mi-a plăcut dar la un moment dat eram prea obosită și am plecat acasă, cu toate că omul a mixat până la 6 dimineața. Nici nu-i de mirare că e considerat #untoldhero.
Ultima zi
În ultima zi am zis să mai profităm și noi de toate "atracțiile parcului" așa că am mers mai devreme să-l explorăm puțin. Am făcut poze la leagănele superbe împodobite cu flori, am jucat foosball uman (aka noi eram jucătorii), am mai făcut câteva poze, am încercat să găsim un hamac liber (evident că nu am găsit) și apoi ne-am luat un hot dog cu ceapă prăjită. Foodporn. Atât de bun era. După ce am mâncat și am băut o bere Ursus Untold, că de, erau oriunde te întorceai, am mers la Ella Eyre. O voce excelentă, niște melodii mai puțin cunoscute, eu pe unele nu le cunoșteam deloc și eu insistasem să mergem la ea, și apoi a cântat faimoasa "I've been waiting all night". După am plecat iar la apartament să ne pregătim (aka odihnim) pentru ultimi mari Dj, aka Afrojack și Martin Garrix.
Am ajuns la timp pentru Afrojack. A fost drăguț dar, cireașa de pe tort a fost Martin Garrix. Pfoai, that kid can mix. Este pe locul doi după DV&LM, mi-a plăcut enorm de mult și chiar am încheiat festivalul pe o notă bună. A fost genial de la început până la sfârșit. Atmosfera, muzica, oamenii, totul era pe aceeași lungime de undă. Eu și una din prietenele mele cele mai bune, am ajuns chiar în față, undeva în al treilea sau al patrulea rând. Ne-am distrat la maximum.
5. #telekommagic
Dacă-mi sunteți prieteni pe instagram, probabil ați observat amalgamul de poze cu #telegommagic. Cei de la Telekom au fost foarte ingenioși și drăguți și dacă-ți făceai o poză la UNTOLD cu acest hashtag, ei ți-o printau și o atârnau de crengile unui foișor absolut superb din parc. Era simplu. Îți făceai o poză, o puneai pe instagram (profilul trebuia să fie public), puneai #telekommagic și în câteva ore îți găseai pozele la foișor, în funcție de câți oameni erau în ea. Nu mai spun, că în ultima zi am postat vreo 20 de poze (nu doar de la UNTOLD), ca să avem cât mai multe amintiri.
Ei bine, acestea fiind zise, consider acest festival o experiență unică în viața mea pe care mi-aș dori s-o repet și la anul. Dar fiind destul de costisitor nu știu cât de posibil va fi acest lucru. But hey, poate nu reușesc la anul, dar peste câțiva ani, cine știe. Singurul lucru pe care îl regret este că nu am văzut toți artiști pe care voiam să-i văd (inclusiv Hodor), și că n-am profitat din plin de atracțiile parcului. Next time, I know what to do.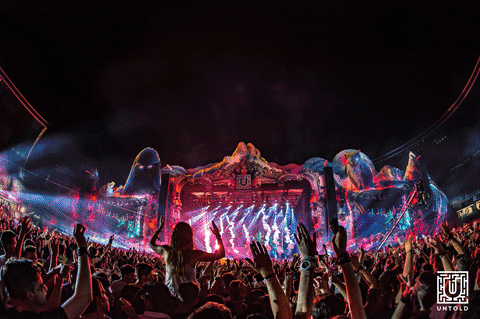 What can I say about
, one of the biggest music festivals of East Europe – an extraordinary experience. I don't regret all the money I've invested in this trip to the world capital of night and magic. I have a lot to say, so I'll say it one at a time:
1. Acommodation
An apartment rented sometime in February, to an overprice, naturally, but it was worth it. If normally, we would've paid 200 lei/ night for 4 people, now we paid 840 lei. It didn't cost us that much, because we were 8, but it's still something. However, the apartment was gor-geous. Incredibly large (it seemed so in the pictures, but in my experience, it's hard to believe what the picture says), spatious, fully equipped with everything you ever wanted, from coffee and coffee machine to Q-tips. And besides being gorgeous, it was also downtown. As you came down, you crossed the street and the mall was right in front of you, and there were 10-15 min of walking till the Arena. What could you possibly want more?!
2. BT Bracelets
Very clever the people from Transylvania Bank (BT) with their contactless bracelets. You could've charged this bracelet with how much you wanted and then you would go in Arena's immense park where you could find all kinds of booth with all kinds of foods/drinks and other stuff, where you would pay with this bracelet. Without much hassle and there was no way you could've lost your money/wallet. Since me and my squad arrived a day early at
, we went to exchange the tickets into bracelets and we asked around when these BT bracelets would be given, because, of course, we knew about them before hand. The girl from BT told us that they were only a few and we should come early if we really wanted these bracelets. No sooner said than done. We went the next day from 11.30, whereas the bracelets would've been handed out at 14.00, and we waited for a long time in front of the booth where they were supposed to hand them out, and at 12.00 we were moved to another queue. And guess what, they were not given like hotcakes. The queue advanced quite fast, and if hardly 200 of them were given. Now it seems funny to me what that girl told us. But, oh well.
Speaking about queues, i have to mention that the BDV volunteers were very organized. Although there were huge queues, our friends arrived in about 5-10 min to the bracelets exchange. In our case, since we arrived a day early, it only took 3 min. Good job!
3. The park
An absolutely immense park, where the festival's sponsors brought us lot of attractions to our delight, e.g. hammocks (from H&M), tents (Kaufland), swings, and too many other things to list them all here. I'll let the pictures speak for themselves.
4.
First day

Brilliant. As we entered to the first Dj that I wanted to see, aka Naughty Boy, it was the song "Running". I got goosebumps. An enormous scene, festival themed (they could've been more inventive regarding the design, but they used my favourite colours so I forgive them), two big screens on both sides where you could admire your favourite artists even if you were in the far back of the arena. Because I was a smart girl and I downloaded the 
  app, I made a line-up to my taste and I tried to keep it. Of course I couldn't do it, but I will tell you what artists I saw.
After NB, sang James Arthur. He wasn't on my line-up (because I already saw him), but since the squad I was with wanted to see him, we decided to stay. I kinda got bored. Fair enough cause I only know two songs of his and the rest were ballads.
After JA, we went home because I really wanted to go to Carla's Dreams, and the stage they sang on, The Citadel, was somewhere outside the
park, somewhere downtown, really close to our apartment. As we got there, Antonia was still singing, and as soon as we got somewhere in the front of the stage, Carla's stepped in. Awesome. I thoroughly enjoyed to listen to them live and to sing along my favourite songs, which are not a few. The only disadvantage this concert had was the fact that it was free and everybody had acces to it. With children. On their shoulders. But hey, at least I saw/heard Carla's Dreams, which I long tried to see/hear.
After CD, we went back to Ursus Untold stage (aka Arena) and we listened to Fedde le Grand. I was quite awesome, he mixed known songs and made quite a show. After Fedde le Grand followed Tiesto, which I expected to be more awesome, but he fell short and so me and two friends decided to go to the Alchemy stage, where Rudimental was singing. It was a much greater show, people were dancing and having fun. Now we're talking!
After Rudimental, we went back to Ursus Untold where Dimitri Vegas & Like Mike were up. We met with the others and we waited for the Dj-s while seated on the floor. That's how you do it when you stand so much on your feet. And then boom. DV&LM know how to make an entrance. It was awesome from the beginning till the end. They had known songs, they mixed well and they involved the crowd. For me, that was the festival's climax. I had the most fun with my friends.
The 2nd day

Me and a friend of mine wanted at all costs to see Subcarpați. We were trying for some time now to go to one of their concerts and this time we made it. Outstanding. Nobody cared about the heat, everybody was ecstatic, they made quite a show and bonus: they sang on-spot rhymes. Extraordinary. I loved it.
After Subcarpați we went back to the apartment because there no longer were artist that we wanted to see. We returned to Galantis, which again I enjoyed very much. Immediately after Galantis was Hardwell, and again we had so much fun. Not as much as we had to DV&LM tho.
The 3rd day

We already became very lazy, we hardly made it to W&W which sang sometime at midnight. I liked them too very much, they knew how to make a show and how to mix pretty well. Next was Armin van Buuren. Likewise, I enjoyed it but at some point I was too tired and I went home, even thought that man mixed until 6 am. No wonder he is called the #untoldhero.
The last day

On the last day we decided that we will take advantage of all the "park's attractions" and so we went early in order to explore it a little. We took pictures at the gorgeous swings which were decorated with flowers, we played human foosball (aka we were the players), we took a few more pictures, tried to find a free hammock (of course we couldn't find any) and then we bought a hotdog with fried onion. Foodporn. It was that good. After we ate and drank some Ursus Untold beer, cause they were every way you turned, we went to Ella Eyre. An excellent voice, some unfamiliar songs, some of which I knew nothing and I was the one who insisted to go to her concert and then she sang the infamous "I've been waiting all night". After that we went back to the apartment to get ready (aka to rest) for the last big Dj-s, i.e. Afrojack and Martin Garrix.
We got there in time for Afrojack. It was nice and all but the cherry on top was Martin Garrix. Boy, that kid can mix. He's the second after DV&LM, I loved it and we ended the festival on a good tune. I was awesome from the beginning till the end. The show, the music, the crowd, everything was on the same wavelenght. Me and one of my best friends, ended up in the front, somewhere in the 3rd or 4th row. We had a blast.
5. #telekommagic
If you are my friends on instagram, you probably noticed the large number of pictures with #telekommagic. Those from Telekom were very inventive and kind and if you took a picture at
  with this hashtag, they would've printed it and hanged it on the branches of a gorgeous pavilion inside the park. It was simple. You took a picture, you posted it on instagram (the profile had to be public), you wrote #telekommagic and in a few hours you would've found your pictures at the pavilion, as many pictures as the people from it. I won't say that in the last day I posted around 20 pictures (not only from 
) to have as many memories as possible.
Well, this being said, I consider this festival a unique experience in my life which I want to repeat next year. But being as expensive as it is, I don't know how possibly this may be. But hey, maybe not next year, but in a few years who knows. The only thing I regret about this festival is that I didn't see all the artists that I wanted to see (including Hodor), and that I didn't took advantage of all the park's attractions. Next time, I know what to do.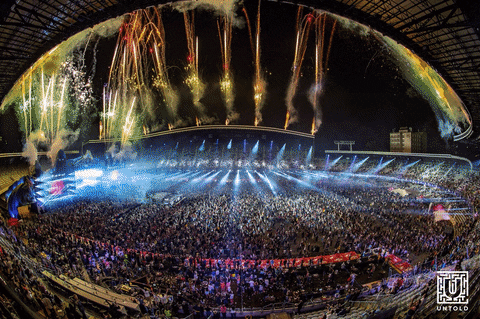 XoXo, Silvy